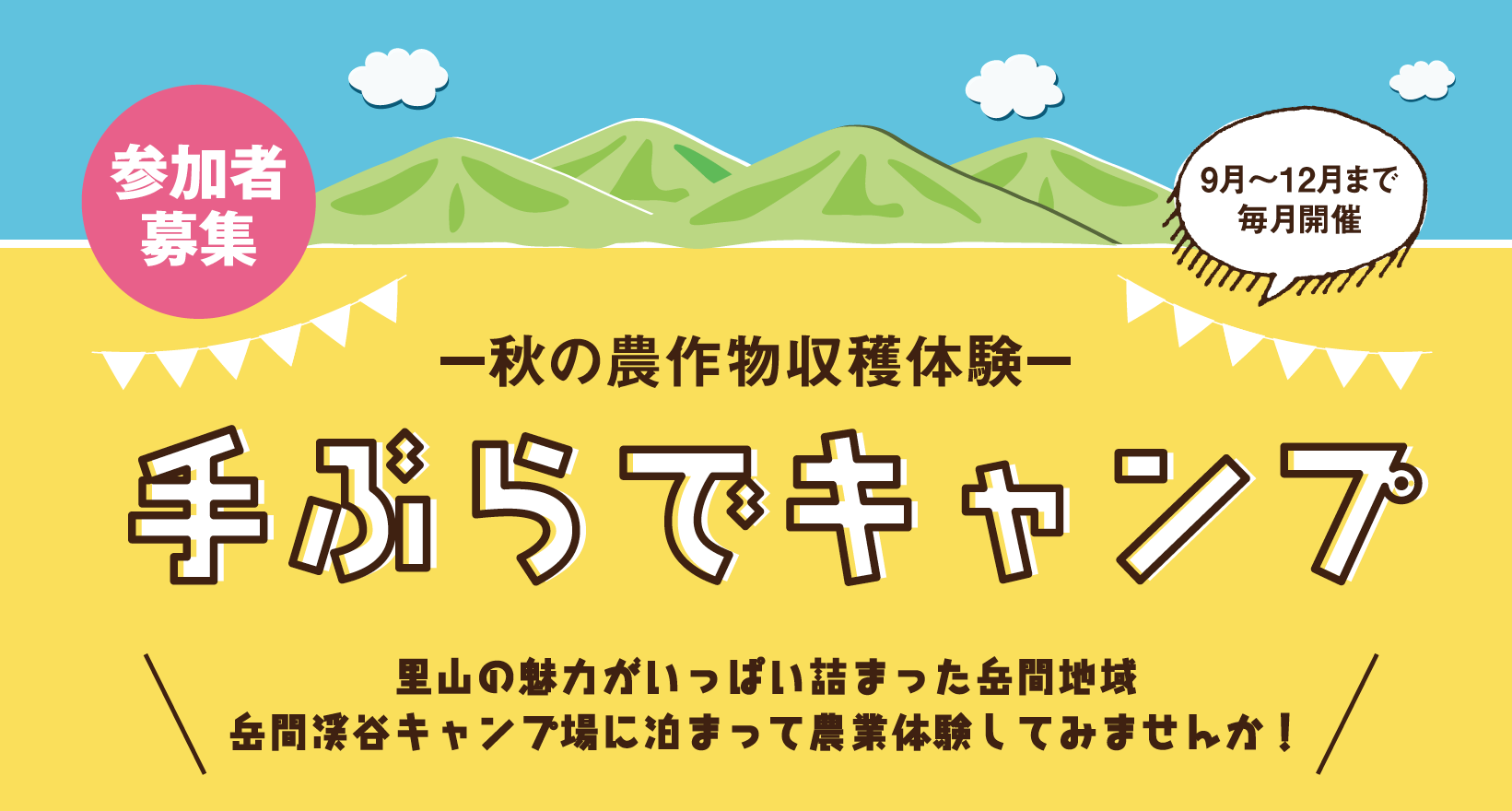 [recruitment of participants] -We camp by autumn farm products gain experience-based - empty hands
to
TAKEMA valley campground
Stay at TAKEMA valley campground, and agriculture experience is possible; "camping is held every month from September through December empty-handed"!
Do you not participate in autumn crop experience in takekanjiiki clogged up with a lot of charm of village forest?
<holding schedule, experience-based contents>
●From Saturday, September 23 to 24th Sunday: Gathering chestnuts
●From Saturday, October 14 to 15th Sunday: Harvest of shiitake or taros
●Harvest of from Saturday, November 25 to 26th Sunday daikon, Chinese cabbages -part 1 -
●Harvest of from Saturday, December 16 to 17th Sunday daikon, Chinese cabbages -part 2 -
※We may change vegetables to harvest by climate and the growth situation about experience-based contents.
<time schedule>
[the first day]
From 14:00 to 16:00 check-in
17:00 ...    Ingredients receipt, dinner time (we cook our own meals with seasonal ingredients of takekan respectively)
After 17:00   Each person dinner, free time
[the second day]
From 8:00 to 8:30 breakfast (campground gets ready)
9:00      Check-out
From 9:30 to 11:00 crop experience ※Dissolution local after experience
※When it has a possibility of rainy weather, we may perform crop experience on the first day on the second day.
<targeted for participation>
Family participation that is higher than person who is interested in agriculture experience, crop, one group adult one ※Please refrain from companion of pet.
<the offer number of people>
To each schedule ten groups (hold in four whole participation number of people or more like every day)
<offer period>
Until two weeks like Monday, August 21, 2017 - every day ago
<the accommodations>
Western style restroom, warm water shower, IH cooker, rice cooker, refrigerator, kettle, cooking tool (pan, plate, cup and others)
<preparations thing>
Receptionist vote, shoes (rainy weather boots), rain outfit (at the time of rainy weather), work gloves, towel, health insurance card which may become dirty or copying, bath article set (in the accommodations only as for the shower facilities)
※I send receptionist vote to participation one applied for. On the day please bring by all means.
<meeting place>
TAKEMA valley campground 3529-5, Kahokumachitaku, Yamaga-shi
Event information
The site
3529-5, Kahokumachitaku, Yamaga-shi
Rate
<participation rate>
Adult /3, 000 yen (tax-included), child (less than primary schoolchild) /2, 000 yen (tax-included)
★With first day dinner, second day breakfast, souvenir (adult)

<the hotel charges>
One group /10, 000 yen (for ten), 12,000 yen (for 12) ※It depends on the number of the lodge hotel guests
★/ blanket night one piece 200 yen that there is bedclothing rental for accommodation in separately, sleeping bag (offering for the dead) 500 yen
Contact
TAKEMA valley campground (Yamaga-shi business and industry society Kahoku branch)
1787, Kahokumachishicho, Yamaga-shi
TEL, FAX 0968-32-2103 (from Monday to Friday from 9:00 to 17:00)
Event document
Site Map