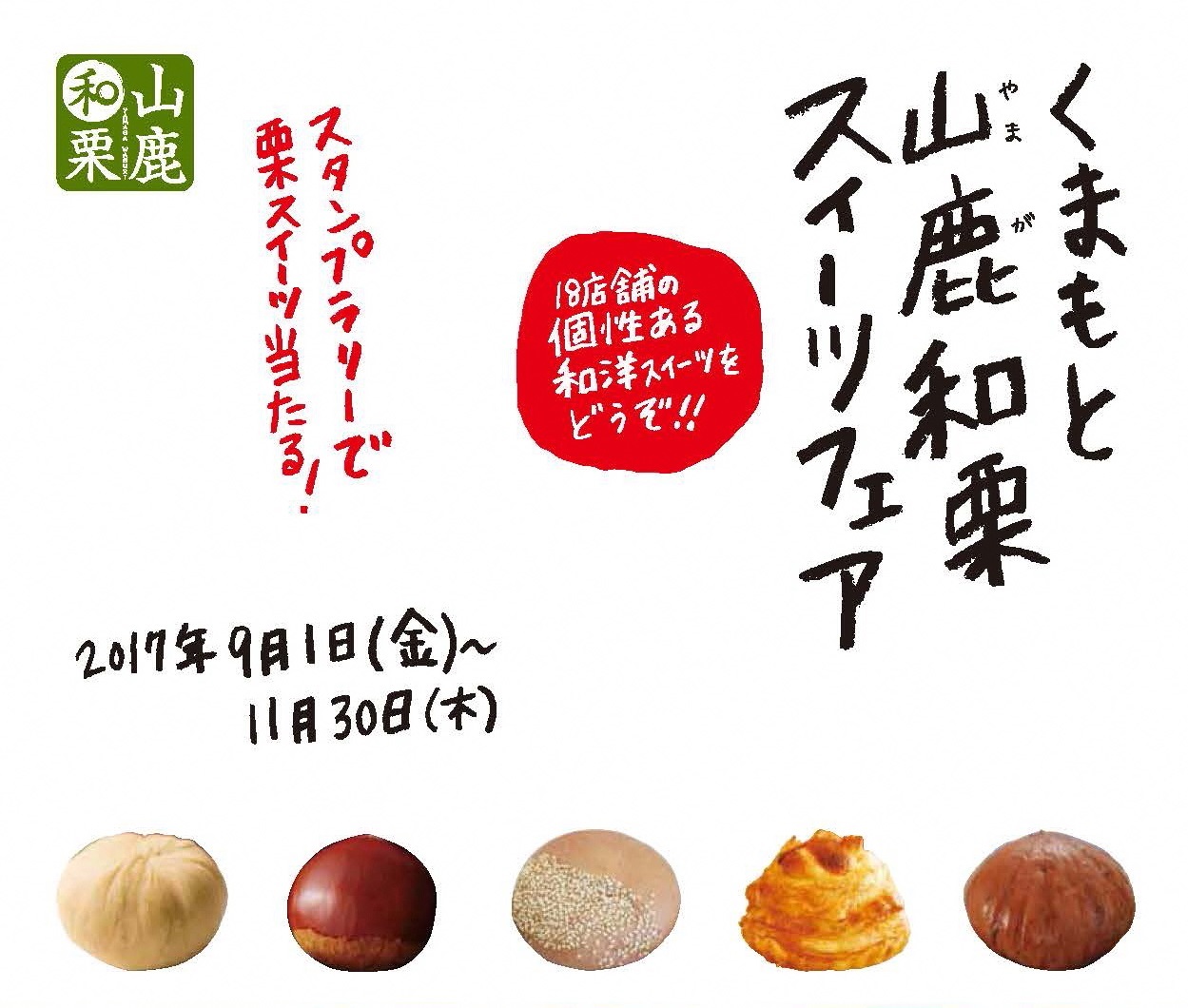 It is ... with - unit characteristics Japanese and Western sweets which there is during 2017 Kumamoto Yamaga sums chestnut sweets fair holding
7
Each place (18 stores) in Yamaga-shi
We hold fair that unit-related Japanese and Western sweets which there is using chestnut from Yamaga proud of amount of production of 1, West Japan to can taste with restaurant and confectionary in Yamaga-shi, product building.
18 record-high stores participate this year. Including chestnut dumpling of local cuisine, Mont Blanc and parfait, bread, pizza come up. When we collect stamps of three places of shops and apply, we perform stamp rally which chestnut sweets of 2,000 yen equivalency hit to ten people by lot. Please challenge this year as you prepare for perfect prize.
◎Participation store and representative Japanese and Western chestnut sweets
* Road station Kahoku hometown of Oguri [OGURITYATA] software chestnut mu
* Chestnut pie of roasters cafe [KOHAKUNOTOKI] chestnut farmhouse
* Oyaki of MOMIZI AN ogasawara chestnut
* Artificial pond garden chestnut dumpling
* Only as for Sagara teahouse chestnut, it is dumpling
* Come; hail Yamaga farm "one no storehouse" of irregularity Mont Blanc
* Pizza of pizzeria da rambler chestnut
* Tao coffee chestnut parfait
* Tea house, Kuriyama Fukayama Kuriyama
* Fall; bean jam chestnut roll
* Bee and Kurikinton
* Wine-flavored hospitality [we cut] chestnut of Yamaga
* Yamaga sum chestnut confectionery An (apricot) whole marron pie
* Hill of ANZU [APURI] marron soft serve
* Sum parfait of cochi cafe (flathead cafe) yamagano chestnut
* Bread & cake [Richmond] Mont Blanc Danish
* Road station waterside plaza Kamoto chestnut bread
* Handmade chestnut steamed bun of Ebisu hermitage Kahokumachi, Furuta
Please refer to homepage for detailed information.
Kumamoto Yamaga sum chestnut sweets fair HP
Event information
The site
Each place (18 stores) in Yamaga-shi
Contact
Yamaga sum chestnut confectionery An (apricot)
TEL 0968-48-4648
Site Map