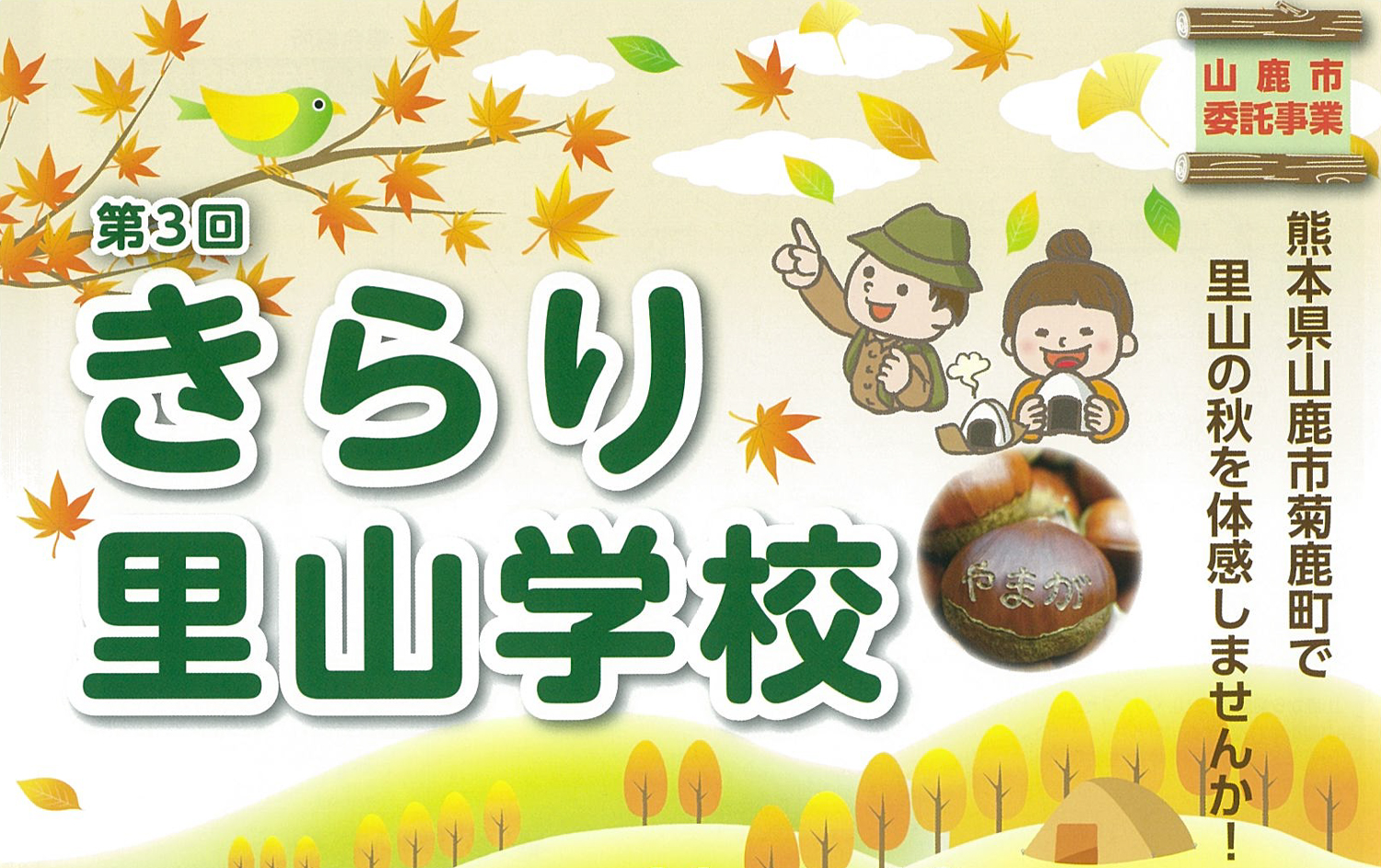 It is village forest school the third shiningly
Do you not sense autumn of village forest bodily in Kikukamachi, Yamaga-shi?
to
Depths Yatani Valley shiningly (campground)
<the date>
We gather at 13:00 on Sunday for from Saturday, November 11, 2017 to 12th
<holding place>
Depths Yatani Valley shiningly
<class schedule> ※There is no rain or shine, postponement
11th Saturday: Physical education/walking 2.8km
Science/daikon & potato moat ri
Dinner of free time, dinner/① the camping or ② village forest
Going to bed (bungalow)
12th Sunday: Getting up, breakfast (7:30-8:30)
The making of home economics/chestnut dumpling
<participation application method>
In attached "the third shiningly back of village forest school _ .pdf" please apply for "village forest school participation application by postcard after filling out the requirements shiningly".
<participation qualification>
If it is rule that sponsor decides and person who can follow social rule, anyone can participate.
But, as for high school student or younger, companion of person of assistance is necessary for companion, impaired protector (or person in charge of adult).
In addition, participation excludes person living in Yamaga-shi. Please refrain from pet.
<the application deadline>
It must arrive by Saturday, October 21, 2017
※In the case of a lot of applications, it becomes lottery.
Event information
The site
1168, Kikukamachiyatani, Yamaga-shi
Rate
<entrance fee>
Adult 1,000 yen, child (primary schoolchild or younger) free of charge
<bungalow charges>
・Normal type one (to eight people) 8,000 yen
・Large-scale type one (to 20 people) 15,000 yen
※Bungalow charges are one amount of money, and all the groups can stay.
Parking lot
There is free parking lot
Access
<from the Fukuoka area>
Kikusui IC → Prefectural Road 16 → Route 325 → Prefectural Road 9
<from the Kagoshima area>
Ueki IC → Prefectural Road 3 → Route 325 → Prefectural Road 9
Contact
Depths Yatani Valley shiningly (campground)
〒861-0413
1168, Kikukamachiyatani, Yamaga-shi
TEL: 0968-48-9595
Event material
Site Map