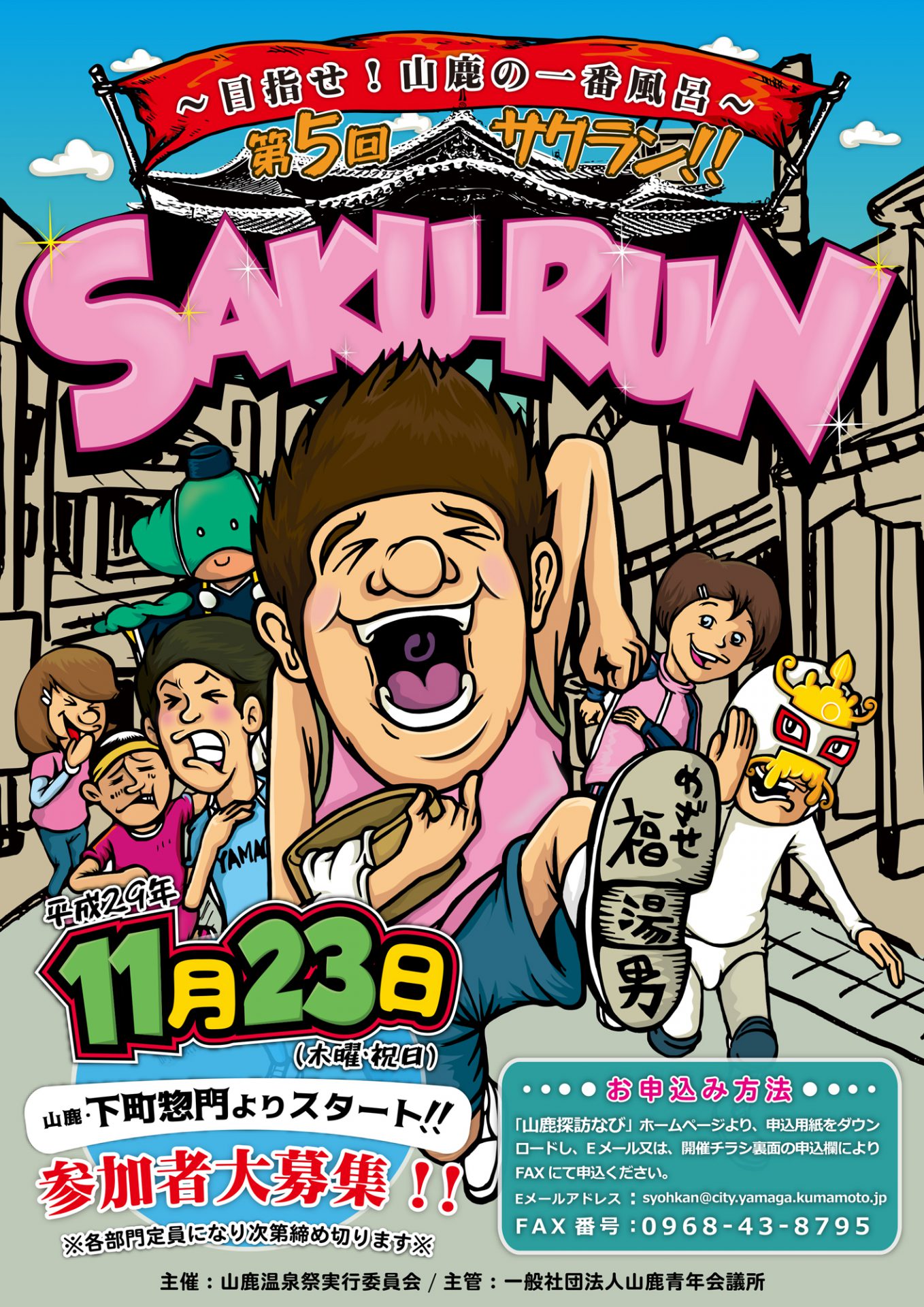 [entry reception desk] Aim the fifth SAKU-RUN ...; first bath ... of Yamaga
to
09:00-17:00
Yamaga hot springs Sakura-yu
"SAKU-RUN" which began in (2013) of the first anniversary of Sakura-yu open hot water (sakuran) runs up about 400m from downtown area main gate of BUZEN highway to Sakura-yu at a stretch and authorizes the first to come as fortune hot water man, fortune maid at hot springs.
We hold with all seven branches, and luxurious prize is presented to the wonderful first to come by age, sex. In addition, there is lucky prize by the order of arrival, too.
※On the day we collect about participation fee at reception desk.
●Application method:
You fill in the requirements on the following participation form, and, after checking attached implementation guideline, please transmit.
When you are applied by E-mail or FAX, you download application (SAKU-RAN flyer), and please send to yamaga hot springs festival executive committee.
・E-mail address: syohkan@city.yamaga.kumamoto.jp
・FAX number: 0968-43-8795
※On the day come to in front of downtown area main gate (the sake brewing of TIYONOSONO side, the Kikuchi River dike) as receptionist performs from 11:00 if you would like to participate.
●Instructions
1 Participant, please think that we make a goal safely to the first according to instructions such as people in charge.
2 Participant receives diagnosis of doctor beforehand, and you confirm that you are healthy, and please participate.
3 Competition is accompanied with danger. As it becomes correspondence for (injury) that is within range of insurance about accidents, the cause of self-responsibility, please participate.
Event information
The site
〒861-0501 1-1, Yamaga, Yamaga-shi
Rate
Primary schoolchild: 100 yen
Junior high student, the public: 300 yen
Contact
The yamaga hot springs festival executive committee secretariat (Yamaga-shi government office business and industry sightseeing section)
TEL0968-43-1579
Event material
Site Map