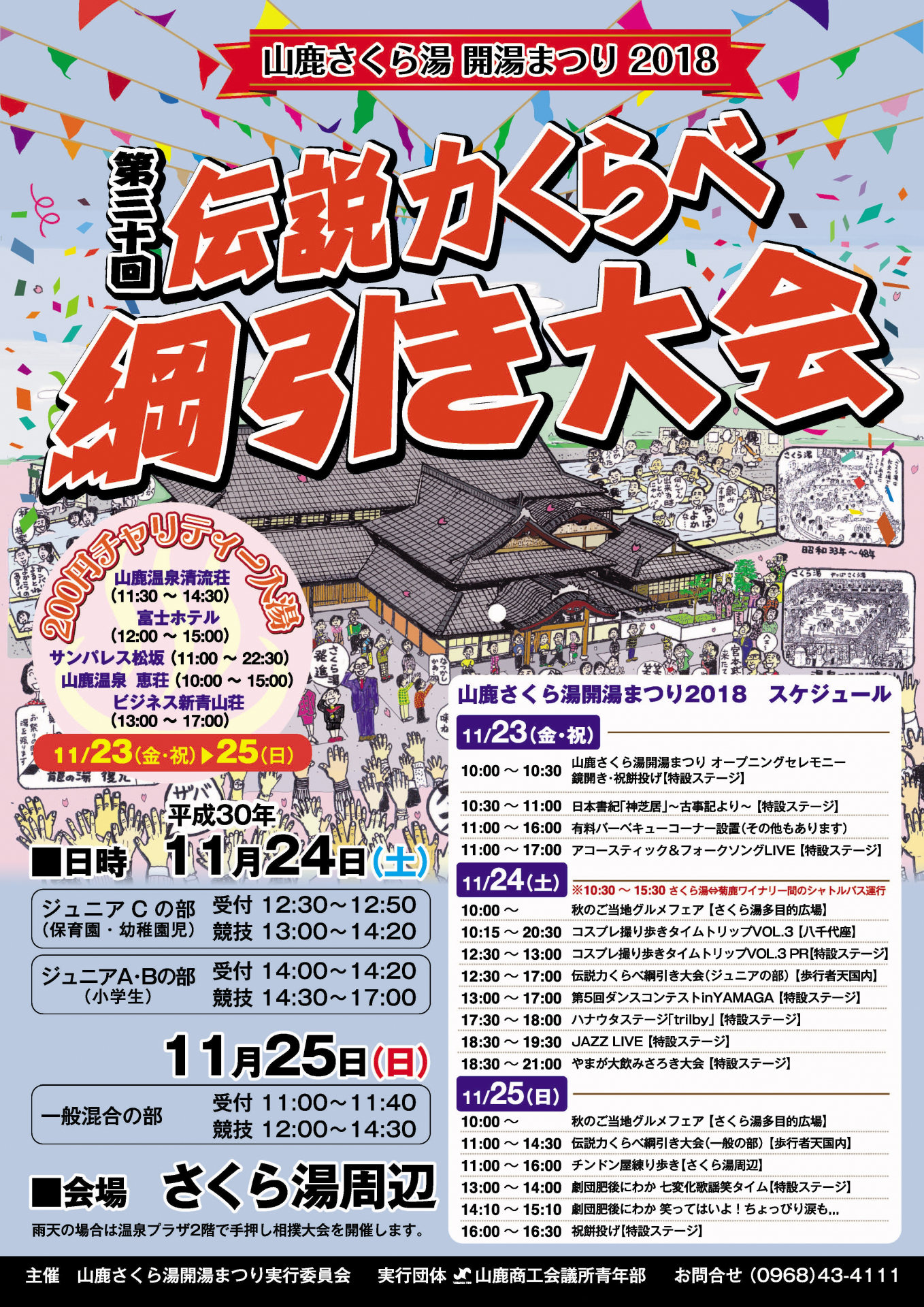 The first "Yamaga Sakura-yu open hot water Festival" is held until Sunday on - 25th on Friday (holiday) on November 23!
After having arranged hot spring festival held in autumn at "spring traditional event" "event of autumn" until now,
Private sector predominates newly this time and is held.
Opening ceremony is practiced on Friday (holiday) on November 23, too.
You should memorialize, and come to the first by all means.
In addition, on Saturday, November 24, free shuttle bus linking chrysanthemum deer winery to Sakura-yu is operated (please refer to the following brochure for the details).
You use, and please fully enjoy autumn Yamaga.
[place]
The Sakura-yu outskirts
[schedule]
※Please see flyer in detailed schedule.
11/23 Friday (holiday)
10:00-10:30 opening ceremony cutting of the New Year's rice cake, celebration rice cake-throwing [special stage]
10:30-17:00 various events
Saturday, November 24
10:00-21:00 various events
※Shuttle bus service between 10:30-15:30 Sakura-yu ⇔ chrysanthemum deer winery
[flyer] Sakura-yu ⇔ chrysanthemum deer winery shuttle bus
Sunday, November 25
10:00-16:30 various events
[inquiry]
①About Yamaga Sakura-yu open hot water Festival
Yamaga Sakura-yu open hot water Festival executive committee secretariat 0968-43-4111 (Yamaga Chamber of Commerce and Industry)
②About free shuttle bus
Yamaga-shi business and industry sightseeing section 0968-43-1579