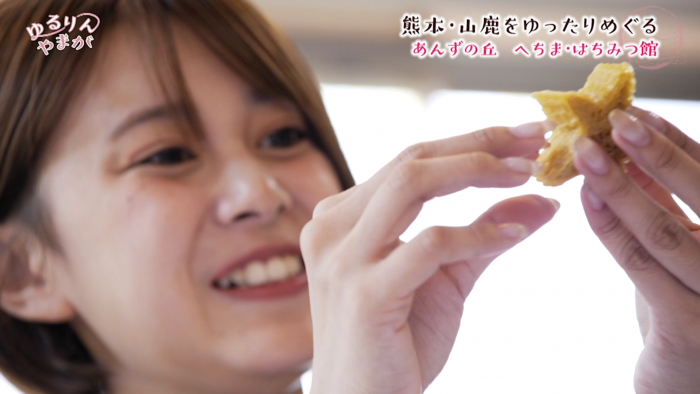 Mini-program "yururinyamaga" of Yamaga-shi that started on Sunday, September 6 in FBS Fukuoka Broadcasting extends over all 13 times until November and is broadcasted♪
It is ON AIR from 11:25 a.m. of every Sunday!
Trip of healing to forget time, and to enjoy relaxedly…
Even if "yururinyamaga" is alone, even couple is family, but "mountain" which wants to be visited again and again introduces no charm.
It is special product crafts village Hill of ANZU and Kahutei of Kikuka Onsen that introduced on the third Sunday, September 20.
Model Reina Nishimura from Kumamoto experienced the making of candle using beeswax with "sponge gourd, honey building" of special product crafts village Hill of ANZU. In addition, it is eating a food with great relish to Mont Blanc snow cone which fully used thick Mont Blanc cream with it is "Yamaga sum chestnut confectionery An" (apricot) in site of the same Hill of ANZU♪
While mountain watched scenery of quiet village forest in one, "Kahutei" of Kikuka Onsen of hot-spring village, we enjoyed wet hot water to the full gently.
☆Special product crafts village Hill of ANZU
☆Sponge gourd, honey building
☆Yamaga sum chestnut confectionery An (apricot)
☆Hidden accommodation Kahutei of village forest
FBS Fukuoka Broadcasting "yururinyamaga" special page from this
For person whom we have overlooked, to live other than Fukuoka, to want to see once again, we deliver even video introduction page and Yamaga sight-seeing YouTube channel of this Yamaga sight-seeing nabi homepage sequentially.
Check it out!
yururinyamaga # 1
yururinyamaga # 2
Broadcast of next time Sunday, September 27…It is "experience of mudding of natural material".
Don't miss it♪♪♪