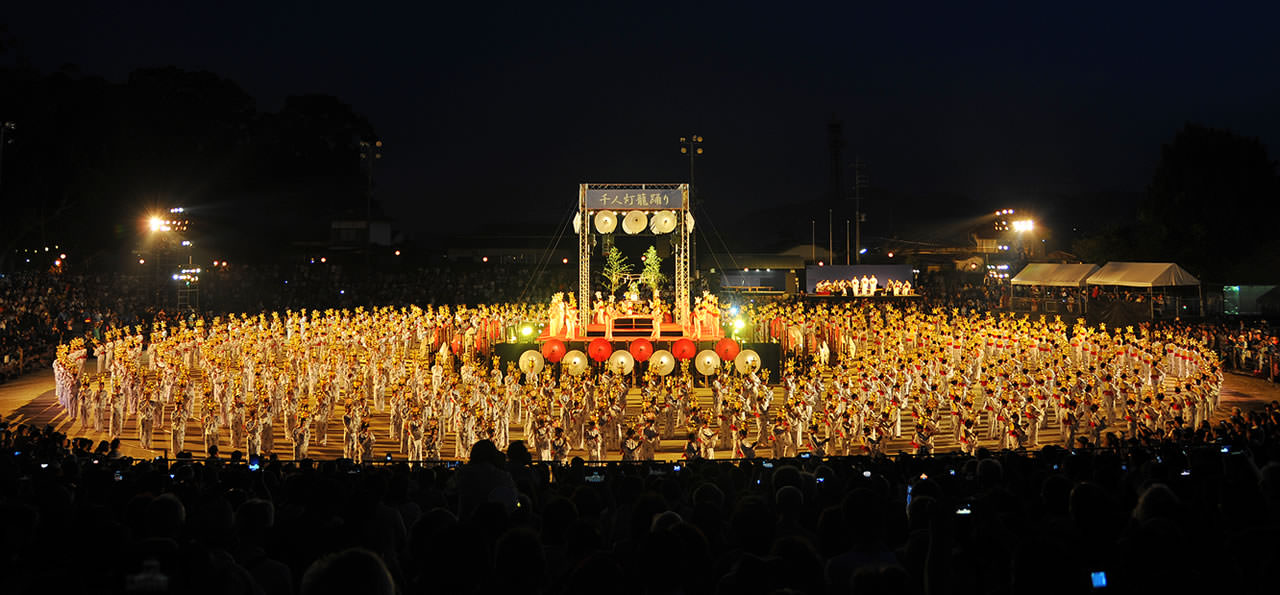 Art of light to shine in in the summer at night of Yamaga.
Yamaga garden lantern Festival "1,000 garden lantern dance"
Traditional industrial art object of Yamaga made only with Japanese paper and paste, "Yamaga garden lantern." As for the origin, country women of Yamaga raise torch in the twelfth Emperor Keiko that ahead was blocked by deep fog and show way and come from that we invited safely.
When it was the Muromachi era, we changed figure to paper gold garden lantern, and "Yamaga garden lantern dance" that woman who raised gold garden lantern to head danced and danced was born, and "1,000 garden lantern dances" that it might be said with pronoun of festival were born afterwards.
Recruitment of
2018 Yamaga garden lantern festival "1,000 garden lantern dance"
suburbs participants essential point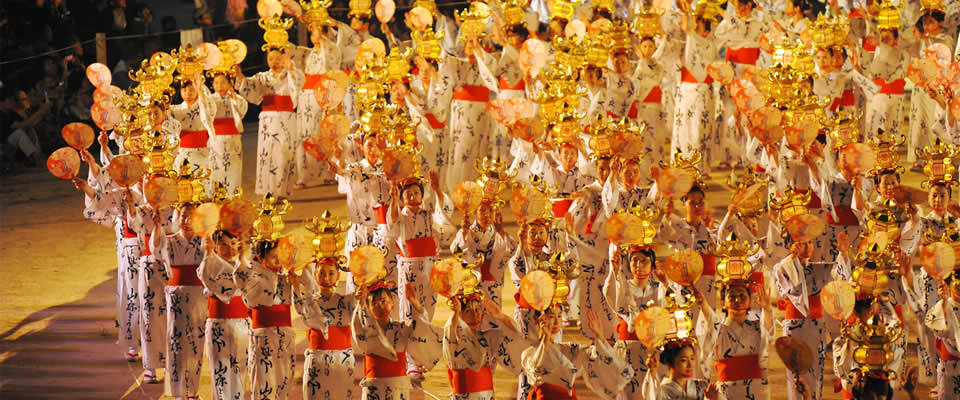 1. Purpose, purpose
It is intended that we create opportunity to have you know culture, the history of Motoichi by experiencing Yamaga garden lantern dance (1,000 garden lantern dances) that is folk art of Yamaga-shi.
2. Target person
Woman resident in the Yamaga suburbs (kengaifukumi) that want to dance Yamaga garden lantern dance
※High school student needs written consent (style freedom) of protector and school.
※Minor needs written consent (style freedom) of protector.
3. Offer period
... (until we reach 200 capacity)
4. The appearance date and time (plan)
5. Exercise schedule
Kamoto civic center (Hidamari) ... 686-1, Kamotomachikutami, Yamaga-shi TEL: 0968-46-3111
Kumamoto City general gymnasium, young man Hall ... 2-7-1, Izumi, Chuo-ku, Kumamoto-shi TEL: 096-385-1010
Yamaga-shi synthesis gymnasium ... 416, Kumairimachi, Yamaga-shi TEL: 0968-43-0090
[instructions]
※As we have never met garden lantern dance participation or beginner carries out class for beginners, the above, please participate in exercise fair on ~④ Saturday, July 14 once by all means on ① Sunday, July 8. ⑤In exercise society after Friday, July 20, there is possibility that instruction for beginners is not perfect. Thank you for your understanding.
※[all] in table points at whole exercise society. We perform exercise party jointly with participant in Yamaga-shi.
※Please participate in exercise party more than three times. Please appear only on one that participated in exercise more than three times on the day of the festival.
※We perform class of dressing in addition on Saturday, July 21. We bring yukata, obi, accessory by all means, and person that dressing has no confidence, please participate.
※One that does not participate in dressing lesson dances, and please gather by exercise start time.
※As fitter does not go down on the day of the festival, we hope that we have you dress in you (or friends).
※Clothes at the time of exercise are yukata or mobile clothes, and please participate. About step, you avoid thing with heel, and please offer mobile footwear (sandals, beach sandal, sports shoes).
6. Schedule (plan) on the day (August 16) of the festival
Meeting time ... 18:00
1,000 garden lantern dance ... Yamaga Elementary School ground
From 20:00 to 21:00 (plan)
Dissolution ... about 22:30 (plan)
※About accommodation on the day, we offer dancer special plan. (we guide in about the end of June.)
※In addition, we will tell about detailed schedules on the day later.
※It may be called off by weather in case of rain. As you contact including correspondence at the time of rainy weather by information email for dancer, for more information about holding, please confirm.
7. Thing (the day of the festival) which needs preparations respectively
String (three waist cord) for dressing
Tabi (white)
Band plate
Face towel (two pieces)
Lower wall of godown of light color
Gauze underwear (or we skid) for kimono
Long underpants (the foot judgment improves and becomes easy to dance.) of color light (if we have)
8. Application method
Thank you for your many applications. As we reached capacity, offer closed.
The Yamaga garden lantern Festival executive committee secretariat (Yamaga-shi government office business and industry sightseeing inside of a section)
〒861-0592 987-3, Yamaga, Yamaga-shi, Kumamoto
TEL: 0968-43-1579 (weekdays from 8:30 to 17:00) /FAX: 0968-43-8795
E-Mail address yoheho816@yahoo.co.jp (please specify necessary matter of application in the text)
※When you reach capacity, please note that I decline application.
※After the secretariat confirms application, we send communication documents such as reference numbers sequentially from the beginning of June.
※When you cannot participate by convenience after the application, please connect with the secretariat by all means.
※We do not accept application over telephone.
Yamaga garden lantern Festival image video
Yamaga garden lantern Festival PR video
yoheho clause (for dance exercise)