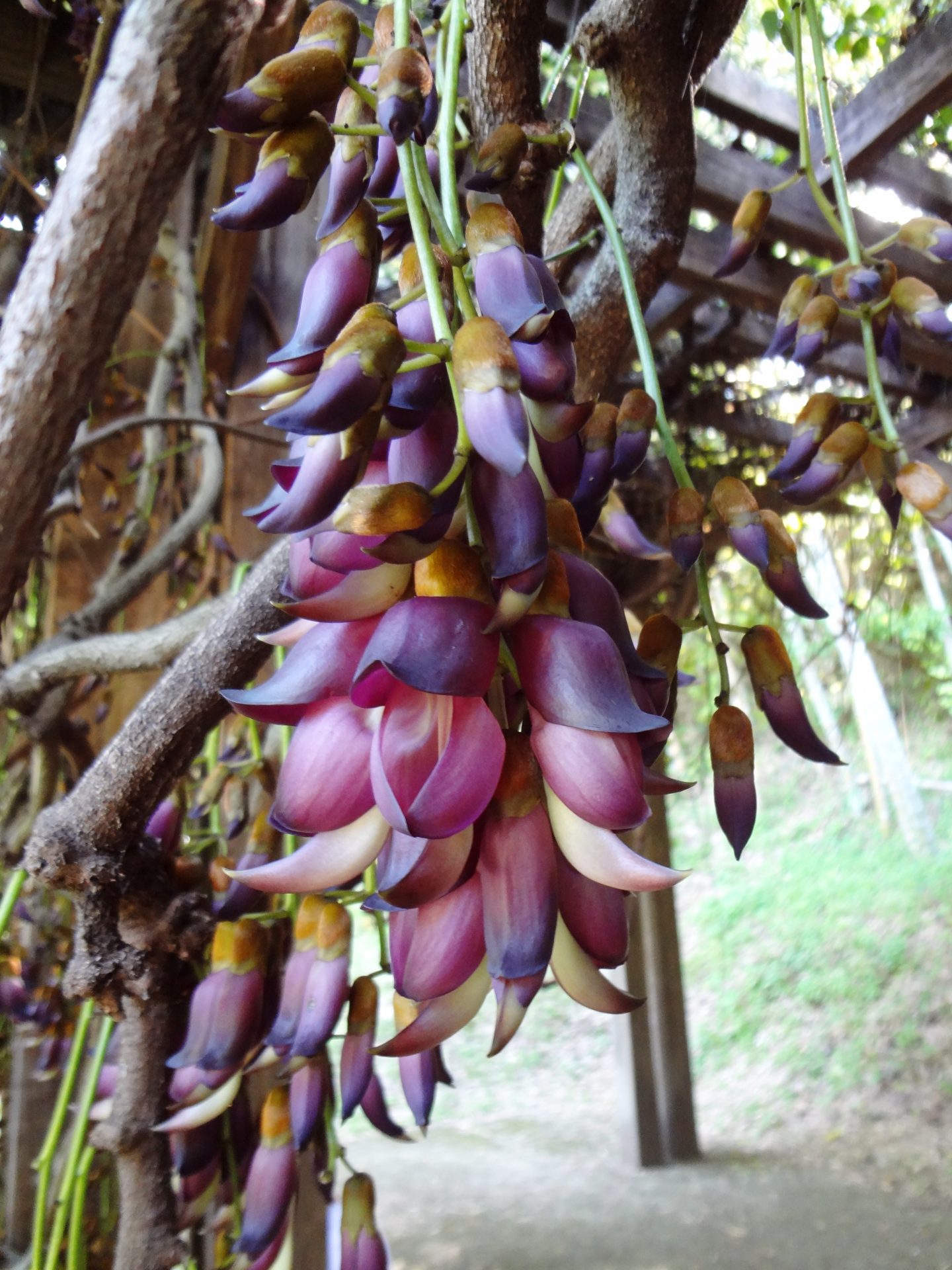 AIRATOBIKAZURA
Purple flower which blooms to Furuki of 1,000 years years old
1,000 years years old and estimated Furuki, AIRATOBIKAZURA are evergreen leguminous plants. Diameter of stem of crane becomes more than 10 centimeters. Leaf has three pieces of cotyledons growing on alternation, and central leaf is oval of 7-15 centimeters in length, and small leaf of both sides does ovoid which stretched below. All the colors of leaf are green, but the top surface becomes myrtle green with luster in particular.
In May, gloomy crimson and violet-colored big flower hangs down like cluster of grape and blooms every year. Flower has a shape of large butterfly of about 7 centimeters in length and gives off unique flavor.
We succeeded in the fruition, and, in 1962, it was revealed that it was type same as eternal spring oil hemp wisteria (joshunyumatou) distributed over the middle basin of Chinese Yangtze River by artificial pollination by Kumamoto University Faculty of Pharmaceutical Sciences.
It was said that the flowering is extremely rare, but in late years can see flowering approximately every year in May. In 1952, was appointed to special natural monument of country.
Legend ... concerning ... AIRATOBIKAZURA
Roast defeated temple, and Saburo Ogata of Genji of Bungotaketa did in old days when the remnants of Heike which lost by battle of estrade no ura shut themselves up in Sagara temple in story in the days of competition between two teams battle. It is said that the Kannon of temple makes flight (flight) then and jumps to this chasuble and nearly got out of trouble.
☆There is Sagara temple near, too. Please drop in.
Facility information
| | |
| --- | --- |
| The location | 〒861-0412 370, Kikukamachiaira, Yamaga-shi |
| TEL | 0968-43-1579 |
| Parking lot | 20 |
| Access | From Kyushu Expressway Kikusui IC at prefectural road 16, Route 325 to the Kikuchi area. Is prefectural road Route 9 from Kamotomachi; to the Kikukamachi area |
Location Map