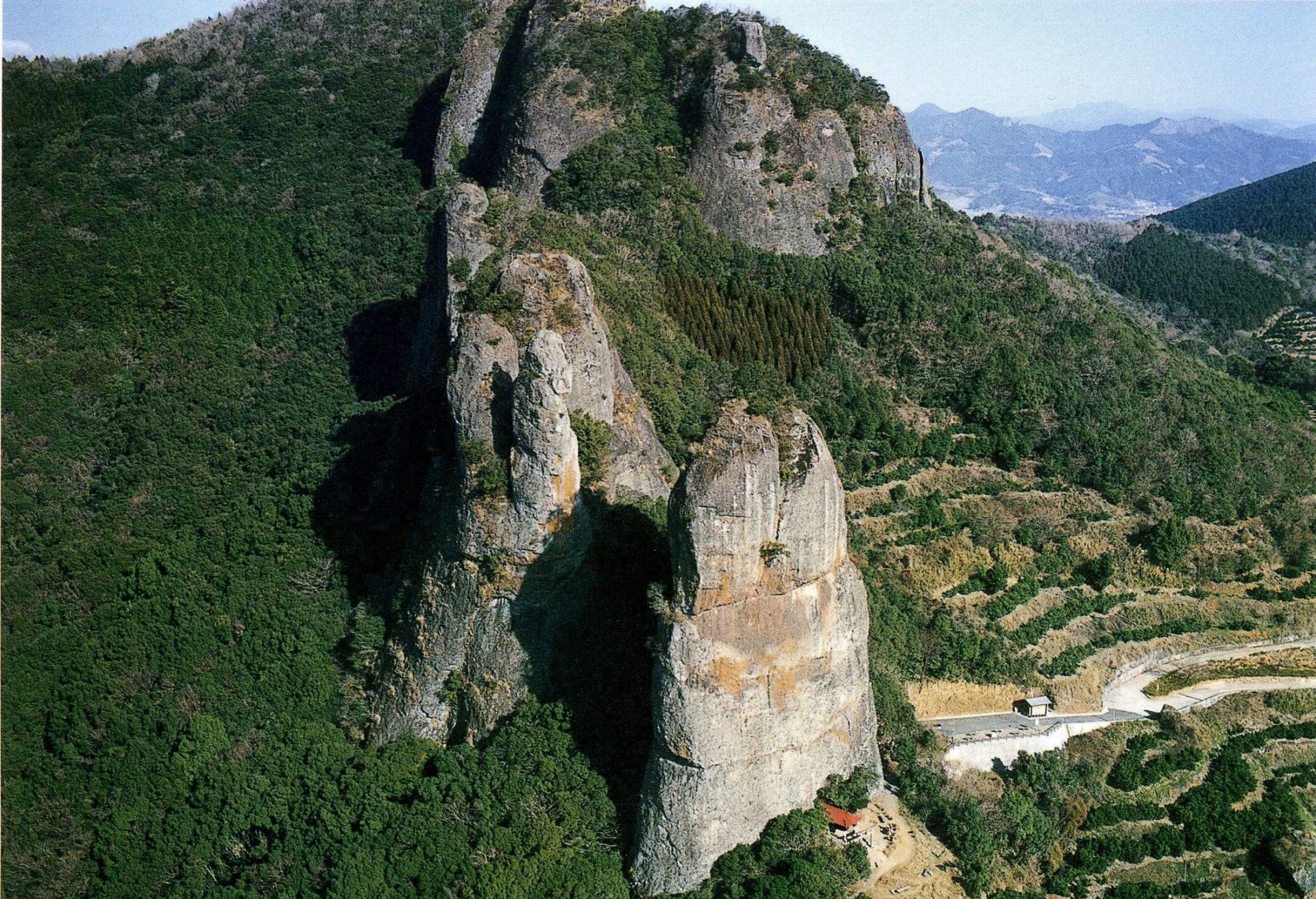 HUDOUGAN (fudoiwa)
City-designated natural beauty spot
["pebble" ticking away history of hundreds of millions of years]
Gamo (let's chew) of Yamaga-shi three ball (the spirit of a dead person) district has this HUDOUGAN, and write in top from halfway up a mountain of mountain of northeast, 389 meters above sea level and push out towards the sky. As for the height of the rock, about 80 meters, grass are 100 meters.
HUDOUGAN was made from "strange hanrei rock" of the Paleozoic era (orudobisu period) more than 500 million years ago, and is thing in the times not to have even forms of the Japanese Islands yet.
This strange hanrei rock spends far-off time of mind and collapses and is drained into the sea, and it is washed to seawater, and it is to round pebble and sand (pebble), and the pebbles pile up thick in the bottom of the sea and receive strong pressure, and it is in iwaiwa, and the neighborhood is scraped off, and "iwao (celebrate) of pebble" in the lyrics of so-called national anthem "Kimigayo" and thing that it was are HUDOUGAN. In addition, as strangely shaped rocks natural beauty spot, it is counted in one of Kumamoto 25 views. About 200 cherry blossoms color around rock in spring.
[origin of the name]
In the Heian era, these mountains are filled with Yamabushi and come from that we worship Acala as the man himself and trained ourselves. Much Yamabushi build Bo around this rock and are told in those days as they trained themselves. There is front shrine of firmness Shinto shrine on the root of HUDOUGAN now.
Mountain climbing road (Kyushu nature trail) is maintained to the foot of HUDOUGAN, and there is observation station which five cars can park. We are comprised of three rocks of the former firmness, average firmness, the back firmness and can climb middle firmness and rear firmness using promenade, and it may be said that view from there is right superb view.
"Rock hamatsuroeru God whom kana to see, and to look up at God of war prostrates" itself
Ancient poem called this remains. State to tower over in a manly way of this majestic HUDOUGAN means whether, indeed, it is a man who let whole body fill with power and the beauty. It is got close to this area as mental symbol of living people so that it is expressed in song.
[challenge! We will climb middle firmness]
Even mountain climbing beginner can climb immovable top during in approximately 20 minutes. We will actually climb top that superb view can look around. Let's challenges with clothes and shoes comfortable to walk in!
(just indication at time. We will climb at your pace slowly. In addition, please please warn step as top is not to fences at all narrowly at all.)
[legend of HUDOUGAN]
HUDOUGAN has interesting legend.
Once upon a time HUDOUGAN and northwest hikotakekengen were brothers-in-law. Mother who lived in the mountains of Gamo always fed hikotakekengen of stepchild only soybean and broad beans which tasted bad. On the other hand, we gave HUDOUGAN of child only delicious adzuki bean and brought up carefully. When it would be said that we let you finally do the inheritance inheritance, we let both compete in strength in tug of war and decided to give which we beat right of inheritance.
We hung general rules in top of furuitake (we waver, and hold) in interval in HUDOUGAN and hikotakekengen and hung command of tug of war. Then HUDOUGAN which ate only adzuki bean, and grew up has been defeated by hikotakekengen without the last push hearing. Neck was blown off by great thing, and way of defeat declined in hill on one eyes Shinto shrine, too. It is said that soil of this neighborhood whole area became red earth by blood which flowed out of the wound. Crowd of both which soil swells by power, and was made is current furuitake, and, at the time of tug of war, two basins of top of this mountain are said to be rope trace of tug of war.
[※ attention and ※ to ask]
As step becomes easy to be slippery very much when we descend a mountain, we will go down carefully slowly.
Follow the following rules, and pleasant mountain climbing!
①The equipment for clothes makes all possible measures, and let's go out.
②Let's keep smoking cessation during walk.
③We capture wild bird and animal and will prevent you from injuring.
④We adopt plant and mineral and will prevent you from injuring.
⑤Let's take good care of the sidewalk facility, mark.
⑥It will prevent you from entering mountain and field except the sidewalk.
⑦Let's take garbage home by all means.
⑧Let's climb with companion to prevent accident if possible.
Facility information
| | |
| --- | --- |
| The location | 〒861-0522 Kamo, Yamaga-shi |
| Parking lot | Five |
| Access | From Kyushu Expressway Kikusui IC through prefectural road 16 Route 325 to the Kikuchi area. Turn left from upper 13 copies intersection; to going straight, the Gamo area. |
Location Map