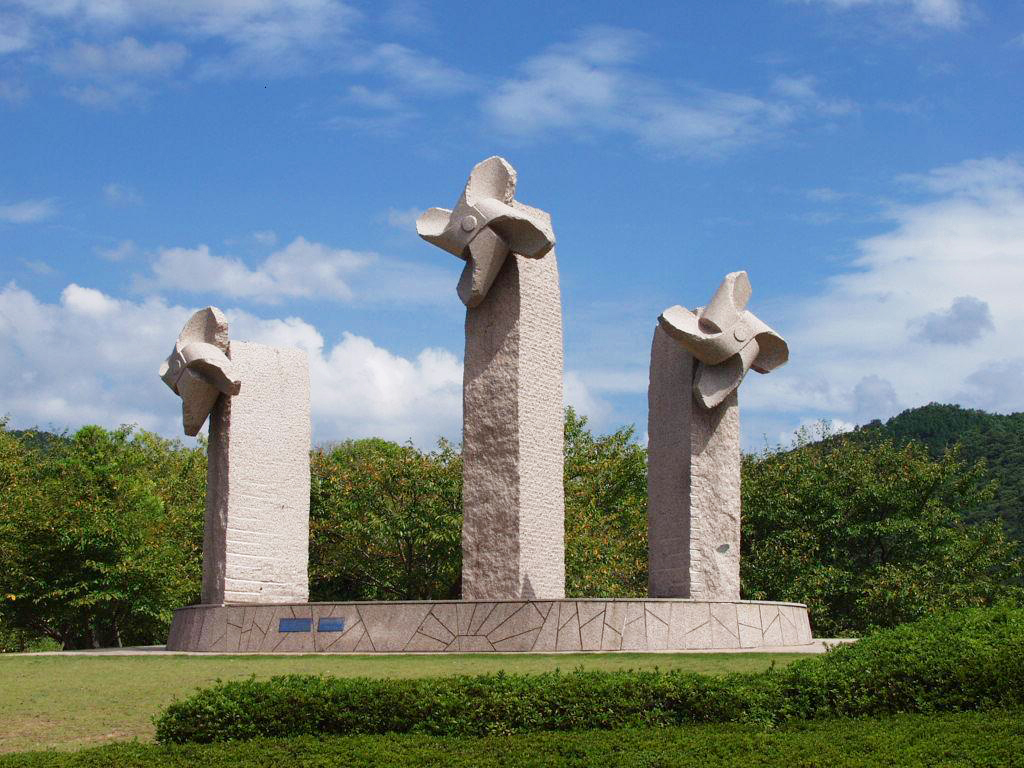 IPPONMATU park
The pleasure enjoyment! Open space of all
He/she reminds of how to spend time going by slowly. Such a place is charm of this park. Including "Kazaguruma of stone", there are roller slide which is quite popular with children, grass skiing experience ground, tennis open space and campground, special product sale place, and, in park in good hill of view overlooking Kamoto plains, many families visit very mysterious monument that wing of 1.5 tons turns around by wind of nature on holiday.
In addition, round burial mounds such as tea-grinding handmill mound ancient tomb or Komachi mound ancient tomb are in park, too and are most suitable for history walk.
Cherry blossoms are in full glory and attract spring very as cherry blossom viewing spot.
Do you not spend forgetting time leisurely in Ippommatsu Park?
[size Japan prominence of feather! Kazaguruma of the only stone in Kyushu]
"Kazaguruma of stone" which was symbol of Ippommatsu Park asked for sculptor, Kadowaki osamusanni living in Kochi-shi that played an active part nationwide to wake up wind of new regional activation in Kamoto area that was production center of round fan and was born in March, 1994.
This Kazaguruma expresses parent and child in three engines. The central pro-basis is 5.5 meters in height, 16 tons in weight, 2.2 meters in diameter of feather. Child group of right and left is made all with red granite from Spain at 3.3 meters in height, 6 tons in weight, 1.8 meters in diameter of feather. Rotatory power of feather of this huge stone turns around by wind of (ear of Japanese pampas grass shakes) with a wind speed of 3 meters per second "only by wind of nature".
In addition, we turn to direction unlike three engines to cope with each direction of the wind. Center and left two engines usually turn around mainly, but most right Kazaguruma of typhoon turn around before coming. Therefore we can judge that the right wing turns around with before when it starts raining. Still three wings may turn around at the same time a few times a year. There seems to be the jinx that lucky thing happens when we see that. As it is very unusual to turn around at three same time, you come to park by all means, and please check with the eyes.
[tea-grinding handmill mound ancient tomb]
It is said to be the oldest ancient tomb in the northern part of a castle district of the mid-fourth century. It is reported that general Ryoshun Imagawa of the Ashikaga shogunate took camp for the Kikuchi subjugation here for three months of from April to July in 1375 (Tenju 1). In addition, we plant hand of Ryoshun Imagawa and ask, and the first generation of Ippommatsu on mound is broken.
Facility information
| | |
| --- | --- |
| The location | 〒861-0303 125, Kamotomachitakahashi, Yamaga-shi |
| TEL | 0968-46-5841 |
| Parking lot | 50 |
| Opening hours: | Business hours 9:00-17:00 of special product sale place |
| Access | It is about 40 minutes using prefectural road 16, Route 325 from Kyushu Expressway Kikusui IC |
Location Map