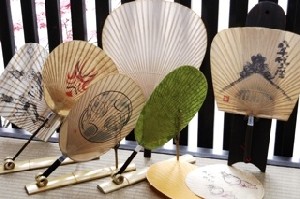 Next people tan-painted round fan/chestnut Kawasho shop
Traditional tan-painted round fan which has been inherited from the Edo era. We send comfortable wind with nostalgia.
There is traditional craft "next people tan-painted round fan" which has been inherited without dying out from the Edo era in Kamoto district. "The next people tan-painted round fan" was known as the Japan's three biggest production centers of round fan along with Kyoto, Kagawa. As for "the tan-painted round fan" which paints part of Japanese paper of round fan with astringent juice of persimmon, and is made, it is still special product of Kamoto district.
It was said that itinerant priest of Marugame of Shikoku initiated reward of one accommodation into the manufacturing method of round fan in around 1600 (Keicho 5) in the Edo era, and beginning of next people tan-painted round fan came to be made flourishingly in the ground of the next people by encouragement of Prince Higo first generation feudal lord Tadatoshi Hosokawa.
For characteristic, we do Japanese paper soundly by painting round fan with persimmon juice which we adopted from pattern persimmon (Shinano persimmon) of blue immaturity and let you last a long time and further function as insecticide effect. In addition, hue adds to depth with time, and peace of mind by the unique color beauty brings important meaning in the current times. Craft by long tradition is mental, and it is thing which not only expresses thing which we protected psychologically, but also reminds of anything which was familiar to daily life.
It is said that business propers in meaning to say, "people come" according to the name of town as for this round fan made only with the next people.
Round fan is still traditional handicraft, and several houses left in town inherit the making of traditional round fan.
Facility information
| | |
| --- | --- |
| The location | 〒861-0331 1648, Kamotomachikutami, Yamaga-shi |
| TEL | 0968-46-2051 |
| Rate | Tan-painted round fan/1,080 yen ... |
| Parking lot | Available |
| Opening hours: | 9:00-17:30 |
| Regular holiday | Sundays and holidays |
| Access | It is about ten minutes from Yamaga city area |
| URL | http://www.uchiwa.jp |
Location Map