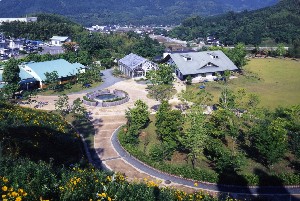 Hill of ANZU
... Hill of ANZU ... which pressed flower, ceramic art ... memory are original and want to decide
There are many playground equipments including slide and athletic of large playground equipment on very large site, and cheerful play voice of children does not die out on holiday.
Other than open space, restaurant and pressed flower and ceramic art are in done facility, and even adult can enjoy all day long.
In addition, flower of planted apricot takes about 500 for the middle from the beginning of March in usual and makes flower of beautiful white and pink bloom.
◯Direct sales store of agricuitural products APURI
◯Contact open space, park
◯Kikuka cafe ◯ 「AN」 snack workshop
◯Tradition crafts building ◯ pressed flower building
◯Sponge gourd, honey building
◯Agriculture museum ◯ outdoor table and bench
Facility information
The location
〒861-0406 733, Kikukamachishimouchida, Yamaga-shi
TEL
0968-48-3100
Rate
◯Contact open space/free of charge

◯Outdoor table and bench/one 1,500 yen
To time/8:00-17:00
Inquiry/direct sales store of agricuitural products APURI 0968-48-3144
Parking lot
Available
Opening hours:
8:00-17:00
Regular holiday
Direct sales store of agricuitural products APURI, tradition crafts building/second Tuesday, New Year holidays
※In addition, it varies according to facilities. (mainly Tuesday rest)
Access
We use prefectural road 16, Route 325 from Kyushu Expressway Kikusui IC and, to the Kikuchi area, turn left at the intersection of Machibara, Kamoto part to the Kikukamachi area.
URL
http://www.kafutei.co.jp/anzunooka/
Location Map