We look for in hot spring
About yamaga hot springs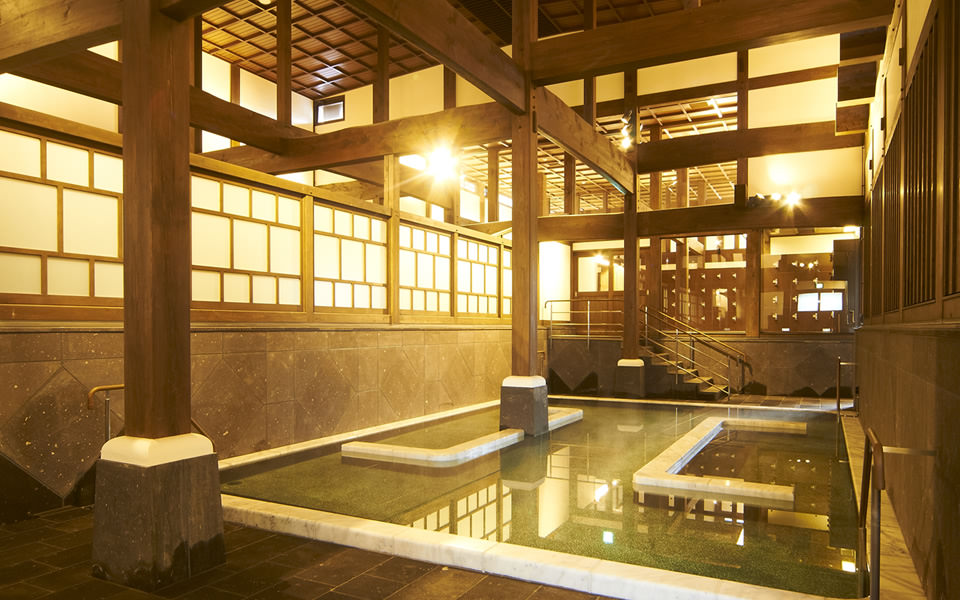 We appear in documents "Japanese name extract" (wamyosho) of the Heian era as hot-spring village. There is history 1,000 years or more. Abundant quantity of water and mellow, soft spring quality are characteristics of yamaga hot springs so that they are sung saying "there is no Sengen, Yamaga tub".
History of hot spring
We will lose in revolt of Hogen now approximately 800 years ago, and discovery of yamaga hot springs is said that "wounded deer does bathing, and Chikaharu Uno (unochikaharu) who went down heals wound" in 1157 (Hogen 2), and to have discovered hot spring on seeing one. In addition, according to the documents, we appear in "Japanese name extract" (wamyosho) written in (934) in 934 of the Heian era as "hot water Izumigo" (yunogo) of country Yamaga county of Higo, and it is revealed that we were known to the whole country widely as hot-springs resort.
"No Sengen, Yamaga tub…Quantity of water-rich hot spring died suddenly in (1473) March in 1473 so that it was sung with ", but jushoku*meihoin (we say) of kingojoji (kongojoji) erected Yakushi-do hall, and long-cherished hot water revived on December 20 because we did prayer of forgetting food and sleep here. In hot spring plaza side, Yakushido in the entrance side of Sakura-yu, hot spring revival Thanksgiving Day is opened every year on this day.
Temperature, spring quality, color
From 38 degrees to 44.6 degrees
Alkaline simple spring (emollient hypotonic high temperature spring), colorless transparence are without taste or odor
Effect
It is treatment after neuralgia, chronic rheumatism, stomach and intestines disease, bone and exercise device injury, relieving fatigue, chronic muscular rheumatism, neuritis, traumatic injury
Contact
Yamaga City Commerce, Industry and Tourism Division
TEL: 0968-43-1579